By Dr. Kai Yu, Research Associate, Kizhakkedathu Lab
With support provided by a CBR Post-Doc Travel Award, I attended the 29th European Conference on Biomaterials at Maastricht, Netherlands from Sep 9-13, 2018. The theme of this year's conference was "Materials for Life," which expressed the challenge the biomaterials field is currently facing: providing effective and affordable biomaterials-based methods to address clinical needs. At the conference, I gave an oral presentation titled "Influence of dynamic conditions on plasma protein corona and thrombus generation on the surface". It stirred up discussion on the evaluation of medical devices in vitro and bridging the gap between in vitro hemocompatibility tests and in vivo results.  The presentation brought awareness to the importance of testing conditions in assessing blood compatibility of medical devices in vitro. The audience also expressed interest in CBR and the talent that we have to facilitate these studies.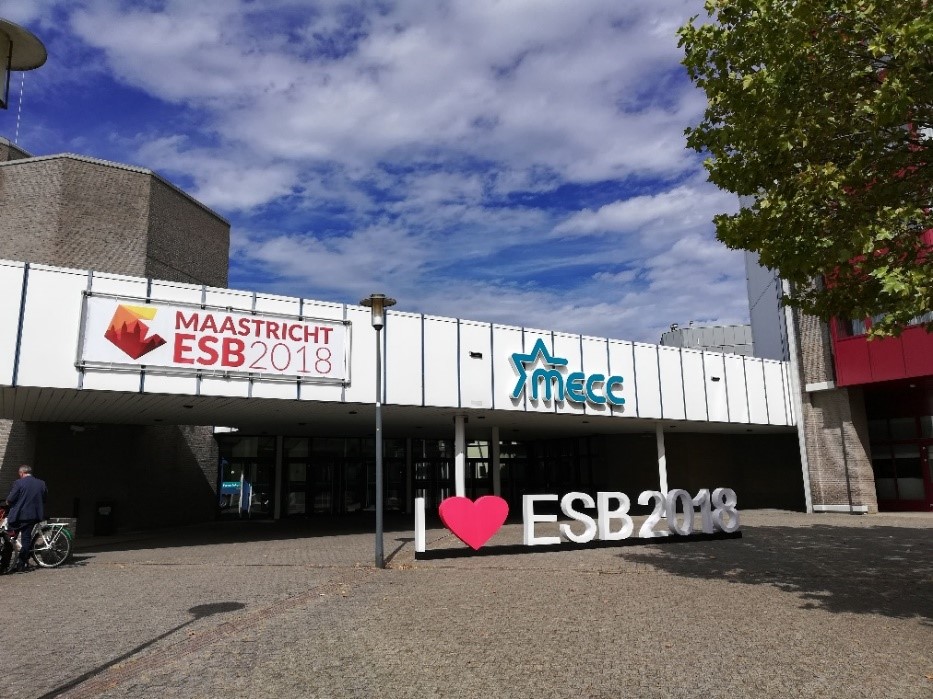 I also attended other sessions including antimicrobial biomaterials and controlling biomaterial-biological systems, which are two other topics that I am studying. I got a chance to communicate with my peers in this field and learn their approach to achieving antimicrobial activity and minimizing the complicated interactions between blood and biomaterials.
The most impressive keynote was on "Contrasting nanomedicine claims versus human clinical performance: why such disconnects?". Even though there are currently thousands of publications claiming evidence for nanomedicine anti-tumor drug delivery efficacy in cell and animal cancer models, there are few nanomedicines to date which exhibit enhanced clinical anti-cancer effectiveness compared to free drug. Scientific research credibility, lack of in vitro–in vivo correlation, and exaggeration of preclinical outcomes for nanomedicines are increasingly questioned. The speaker proposed that artificial intelligence and personalized medicine may be good strategies to address this disconnect.
Overall, the conference gave me a deeper insight into the biomaterials field. During my trip, I also visited the beautiful host city, Maastricht, which is located on both sides of the Meuse River and has a rich history and culture. Old architecture is combined with the new, as the old buildings are joined by renovated buildings, museums, bridges, and an art university.