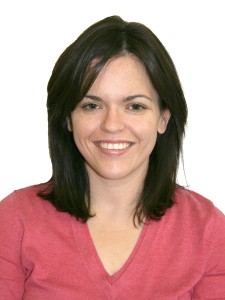 My association with the Centre for Blood Research began in 2008, when I started working on my MSc. and was fortunate to receive a two-year studentship. This was a part of the CBR's Strategic Training Program in Transfusion Science facilitated by the Canadian Institutes of Health Research and the Heart and Stroke Foundation of Canada. I was thrilled to have the support of a CBR studentship to start my MSc – previous to which I had completed a BSc in Biochemistry & Molecular Biology at the University of Northern BC (UNBC) including co-operative education working on stem cells at the Terry Fox Laboratories, working on breast cancer at UNBC, and working on cytotoxic T cells and HSV-2 infection at Yale University.
The unique aspect of my CBR studentship, unlike any previous trainees supported by the CBR initiative, was that I was not located at UBC but rather at UNBC. This was made possible through my supervisor, Dr. Geoffrey Payne, who is a member of CBR. During my time working with Dr. Payne my project focused on the use of intravital microscopy preparation of microvasculature and characterizing lymph node arteriole remodeling during infection. Our recent findings on this project, published in PNAS and highlighted in Nature Reviews Immunology, was conducted in collaboration with Dr. Akiko Iwasaki at Yale University and demonstrates that CD4+ T cell dependent vascular remodeling in lymph nodes is a key component to adaptive immune response and priming of cytotoxic T cells. Furthermore, manuscripts currently in press and under review expand on these findings by elucidating the mechanism of lymph node vascular remodeling.
During my period of my CBR studentship, I was able to attend a number of CBR seminars and had access to great resources including excellent collaborators, both of which were great learning opportunities and contributed to my success as a graduate student. Notably, the support of my CBR studentship also allowed me to chance to become involved in other academic projects including founding a journal club and The Identity Project. The journal club brought together UNBC graduate and undergraduate students and medical students in the UBC Northern Medical Program to discuss both basic science and clinical papers to foster critical thinking and presentation skills, and links between basic science and clinical medicine. The Identity Project is a student-driven initiative to promote exchange between clinical medicine and basic science research by creating links between graduate students and medical students as well as mentorship to undergraduate and high school students interested in a career in science and medicine (if you are interested in learning more e-mail: info.theidentityproject@gmail.com).
Although the remainder of my MSc. was supported by a CIHR Master's Award and I have now moved to work on my PhD with Dr. Pascal Bernatchez at the UBC James Hogg Research Centre at St. Paul's Hospital, I continue to benefit, learn, and enjoy being involved in CBR through seminars and events such as the Earl Davie Symposium at the kind invitation of Dr. Conway.