Written by: H. Daniel Luo, PhD Candidatehttps://cbr.ubc.ca/research-and-training/grad-pdf-training/
Supervisor: Dr. Jayachandran N. Kizhakkedathu
Conference: 29th International Congress of The Transplant Society (TTS 2022)
Location: Buenos Aires, Argentina
Oral Presentation Title: Achieving localized immunosuppression through ex vivo engineering of organ blood vessels
Authors: HD Luo, EMJ Siren, W Enns, L Sim, F Tam, J Rahim, C Du, D Ko, S Withers, JC Choy, JN Kizhakkedathu
The Transplant Society holds a biennial congress inviting international experts and key opinion leaders in transplantation science and medicine to discuss a variety of topics ranging from cutting edge science to the latest controversies in ethics and public policy. Through these discussions, best practices and novel research are disseminated in hopes for transplant program development for organ donation and procurement across a wide array of jurisdictions. The 29th international congress – with the theme "committed to access and transparency" – was held in the beautiful capital of Argentina, Buenos Aires.
With a sizeable 5-day program containing more than 190 oral presentations, 320 mini oral presentations, 150 campfire presentations and 450 poster presentations, a cornucopia of research, discussion and debate—with extensive coverage of current advancements in transplantation—occurred. I was fortunate enough to be accepted for an oral presentation under the Immunosuppression and Cellular Immunology session. Through this opportunity, I presented my research on achieving localized immunosuppression through ex vivo engineering of organ blood vessels. In the allocated time of 7 minutes for presentation followed by 3 minutes of questions, I endeavoured to present an ex vivo organ engineering approach where we fortify the endothelium with immunomodulatory polymers during preservation. The technique's therapeutical potential was illustrated using mouse arterial and kidney transplant models that showed increased protection from ischemic and immune damage resulting in healthier graft tissue. This ex vivo organ engineering approach using immunomodulatory polymers was previously published and summarized in a manuscript in Nature Biomedical Engineering.
As a PhD trainee, it was a great honour and opportunity to disseminate my research on the global stage. This experience afforded me the chance to speak to global leaders of transplant immunology to further my knowledge, discuss future experimental models, and create meaningful connections. In addition, this meeting was particularly exciting because it was my introduction to gatherings comprised of both trainees and professionals from a variety of sectors, including academia, clinic, and industry. The expanded representation in attendance allowed me to critically assess my science from not only the research lens, but also in its clinical relevance and translational feasibility—bridging basic science to clinical needs.
Though the opportunity to attend TTS 2022 was exciting, visiting Argentina for the first time was also exhilarating. After a 16-hour flight, I was welcomed into the beautiful Spanish speaking city of Buenos Aires and ready to experience its culture and arts. The congress—held in the hometown of the president of the society—proudly opened with tango and malambo, both of which are Argentinian dances. Then, after several opening addresses delivered in both English and Spanish, including one delivered on behalf of the Pope, an impassioned performance by double lung transplant survivor and Latin pop singer, El Puma, closed the evening. The ceremony was expertly curated to connect the arts of the hosting city and members of the transplantation community. When I had my own leisure time, I used my limited Spanish to navigate historical neighbourhoods like La Boca and visit various landmarks like the Obelisk of Buenos Aires, the Recoleta Cemetery and the pink presidential palace, La Casa Rosada.
This extraordinary experience was possible with the help of the CBR Travel Award. Overall, this award supports trainees in their professional growth towards becoming research leaders outside the confines of UBC. The opportunities to attend national and international meetings also allows CBR trainees to experience different culture and arts through travel. I would like to thank the CBR for this unforgettable opportunity and their unwavering support towards the growth of their trainees through programs like this.
Photo 1. Daniel Luo presenting a novel organ engineering approach at TTS2022.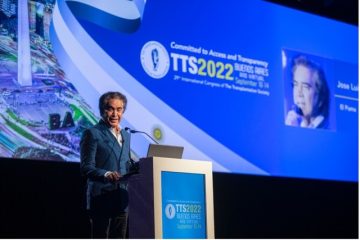 Photo 2. Double lung transplant survivor and Latin pop singer El Puma performs at the TTS2022 opening ceremony.
Photo 3. TTS 2022 was held in the capital of Argentina, Buenos Aires, in September. The photo shows the city sign of Buenos Aires through manicured shrubbery and the Obelisk of Buenos Aires can be seen in the background.
Photo 4. The TTS 2022 networking gala was held at the Tango Porteño theatre and featured two Argentinian dances: Tango and Malambo.