By Emel Islamzada, Graduate Student, Ma Lab                                                                    
Thanks to the Centre of Blood Research (CBR) for choosing me to be one of the CBR Graduate Student Travel Award recipients! With this award, I attended the 61st American Society of Hematology (ASH) Annual Meeting in Orlando, Florida. ASH is one of the world's largest professional societies, including both clinicians and scientists, who work together on current challenges in addressing blood diseases. It aims to promote research, education, training, and clinical care in hematology. Attending this conference allowed me to see the current highlights and updates in hematology research, and provided an opportunity to communicate with more than 20,000 attendees working in the field.
The Annual Meeting, held from December 7 to 10th 2019, included educational and scientific sessions, three poster sessions, and exhibitions, all of which gave rise to lively discussions and networking between attendees. Educational programs, designed for trainees and junior faculty, included sessions about career development skills. Other educational sessions facilitated conversations between the experts in the field and the audience, encouraging questions and providing new insights on various disease and treatment topics. The scientific program offered thirteen committees, my personal favourite being the Scientific Committee on Iron and Heme, which explored their new roles in health and disease.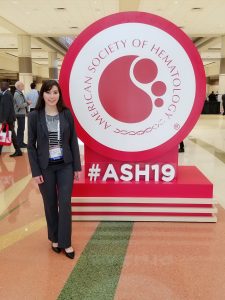 Each year, about 5,000 abstracts are submitted, and about 3,000 are chosen for oral and poster presentations. I was honoured to present a poster discussing one of the fundamental challenges in red blood cell (RBC) transfusion. Not all transfused RBC units will confer the same benefit to the recipient, as there is a high degree of variability in the circulatory half-life of transfused RBCs from different donors. This variability stems from the intrinsic ability of donor RBCs to withstand the deleterious effects of RBC storage. Currently, there are no biomarkers to identify donors who can potentially provide longer-circulating RBCs. I discussed the unique technology recently developed in our lab: the microfluidic ratchet device. It is designed to sort RBCs based on their deformability using ratchet transport through microstructures that replicate the human spleen. We used this system to assess the potential to predict the circulation time based on RBC deformability. We showed our device to be able to identify potential "super-storers": these are donors with very little time-dependent changes in RBC deformability. I had several visitors come to my poster, and enjoyed discussing the project with them and listening to their perspectives on RBC storage.
Besides the engaging talks, one of my favourite highlights of this conference was the sessions and workshops offered by the ASH Wellness Studio. We explored topics on resilience, stress management, and practised de-stress techniques.
Despite a very busy schedule, attending this conference also provided some opportunities for fun! Orlando, Florida is a beautiful city, and it was wonderfully warm for the duration of the conference. The Orange County Convention Center is located on International Drive, an area that offers visitors one-of-a-kind attractions, entertainment, and lots of dining options. Visiting the Wheel at the Icon Park and having a bird's eye view of the city was a lovely experience. Pirate's Cove themed mini-golf course was conveniently opened late and allowed for some evening fun and relaxation.