Notes from the Director's chair…
Through the efforts of our members, students, technicians, a wide range of support staff, as well as academic and industrial partners and donors, the  Centre for Blood Research (CBR) made major strides in 2012 in its efforts to promote translational research, education and training in blood and blood-related processes. We more clearly defined our message to emphasize the CBR's research strengths in the fields of hemostasis-thrombosis, inflammation/infection/wound repair, and transfusion medicine and we are increasingly establishing strong links in each of these disciplines, between the lab and clinic. Indeed, our ability to tie the bench to the bedside remains a unique strength of the CBR, setting us apart from many other blood research centres around the world, and leading to productive and clinically relevant collaborations and advances within and beyond the CBR.
This year, the CBR once again saw many successes, some of which are summarized below. We encourage you to keep us informed of breaking news, publications, awards, career changes, new collaborations and opportunities to raise awareness of your achievements and the CBR.
The coming year will not be lacking in new and exciting events. With substantial investments from multiple donors, our programs are flourishing. We have obtained long term support for our major symposia (Earl Davie, Norman Bethune), the CBR Research Day, and our popular weekly CBR Seminar Series. The newly formed UBC Bleeding Disorders Collaboratory (UBCBDC), led by John Wu at BCCH and Shannon Jackson at SPH, is a shining example of what the CBR can do in partnership with industry to enhance our academic and clinical programs … and hopefully this winning approach will be more widely applied. Funds have been raised for 2013 to support more summer students and collaborative research awards, as well as a young investigator award. And we are optimistic that our endeavours to partner with research groups in China will finally come to fruition early in 2013.
---
Awards and Achievements
Several CBR members and students received well-deserved accolades for their achievements this past year, only some of which are recognized here. Natalie Strynadka received a Senior International Research Scholar (SIRS) award from the Howard Hughes Medical Institute (HHMI), her 5th award from the HHMI in recognition of her major contributions to delineating the mechanisms underlying antibiotic resistance. The Prix Galien, often referred to as the Nobel Prize in pharmaceutical sciences, was awarded to Bob Hancock for his breakthrough discoveries in selectively modulating immunity and suppressing harmful inflammation while retaining protective immunity.
Christian Kastrup was awarded a prestigious prize from Grand Challenges Canada to develop an inexpensive treatment for bleeding using procoagulant nanoparticles, delivering them at a high velocity "upstream" into the circulation, such that they may penetrate deep into areas of bleeding. Solmaz Sobhanifar and Jonathan Foley both were recipients of Banting Postdoctoral Fellowships to work in the labs, respectively, of Natalie Strynadka and Ed Conway. They were the only 2 PDFs at UBC to receive these CIHR awards, of which only 23 were availalble throughout Canada. We were also pleased to announce that longtime CBR member and renowned UBC hematopathologist, Louis Wadsworth, received the prestigious Clinical Faculty Award for Career Excellence in Clinical Teaching.
---
Publications and Breakthroughs
In 2012, CBR investigators published over 200 manuscripts in high-quality, peer-reviewed journals, and many more publications in the way of reviews, chapters, abstracts and posters. These may be found on the Investigator pages of this website.
The productivity of our members, however, is not only measured in numbers of publications, but in the valuable advances reflected in those works. To name but a few, here are some of the highlights, all of which fall within the mission of the CBR: 1. developed novel approaches using proteomics to optimize the quality of platelet concentrates for transfusion, 2. demonstrated that treatment of iron overload by chelation can improve survival of patients with bone marrow failure syndromes, 3. gained new insights into the mechanisms by which iron is released from serum transferrin, 4. developed new polymers to graft to red blood cells, thereby protecting them from immune destruction, 5. discovered new pathways that explain how inflammation and infections increase the risk of thrombosis, 6. gained new understanding of the molecular basis underlying bleeding and thrombosis in patients, 7. created non-toxic polymer-based agents to target blood vessels to treat vascular diseases, 8. identified previously unrecognized adipogenic progenitor cells that participate in tissue regeneration and wound healing, 9. discovered novel polymer-conjugates that can be readily used as a tissue "sealant", 10. gained new understanding of how early use of antibiotic increases the risk of developing asthma, 11. identified a new potential therapeutic target, cathepsin, to treat lung fibrosis, 12. introduced a new paradigm to explain how amyloid, angiogenesis and Alzheimer's disease are connected, 13. explained the mechanisms of increased risk of some anti-HIV drugs during pregnancy and to the infants, 14. developed new methods to determine which drugs are best for treating HIV in different patient populations, 15. designed innovative techniques to treat hospital-acquired infections, tuberculosis and poorly healing wounds with peptides that modulate the immune system, 16. utilized structural approaches to devise more effective drugs to overcome methicillin resistant infections…… There are many more! And we are confident that these contributions will help to improve the health and well-being of patients world-wide.
---
Special Events
Earl Davie Symposium 2012
November 13, 2012 marked the 6th Annual Earl W. Davie Symposium, hosted by the CBR, sponsored again by Novo Nordisk and attended by Earl Davie and his wife, Anita. The meeting, with a record attendance of over 200, was kicked off by Shannon Jackson, who provided new insights into how to manage patients with hemophilia with prophylactic regimens. Tyler Smith highlighted the challenges of monitoring the new oral anticoagulants in the lab. Mike Krisinger revealed novel biochemical pathways that link coagulation and innate immunity, and Chris Overall provided a systems approach to untangling the complex effects of metalloproteinases. In the afternoon, Michael Hughes gave a fresh look at the properties of neutrophils in inflammation and Ashley Hilchie introduced us to the powers of immunomodulatory peptides. The ever-popular shot-gun poster talks by our many students and staff, as usual, were a big hit and set the stage for stimulating discussions at the poster sessions. Our guest speaker from UC Irvine, Diane Nugent, shared her knowledge about inherited bleeding disorders. Our two keynote speakers, Dr. Charles Esmon from Oklahoma, and Dr. David Ginsburg from Michigan, both world-renowned investigators and Howard Hughes Scientists. provided stimulating presentations that underlined how coagulation interfaces with other important biological processes, including inflammation and infection. Finally, we were honoured by the presence of Nobel Laureate Dr. Eddy Fischer, who was so impressed that he promised to attend next year and to give a presentation.
Naiman-Vickars Multipurpose Laboratory
The husband-wife team of Drs. Sheldon (Shelly) Naiman and Linda Vickars devoted their careers to solving the puzzles of hematology, including bleeding and clotting disorders. Dr. Naiman, the founding head of the Division of Clinical Hematology at VGH, was instrumental in establishing the Bone Marrow Transplant Program for British Columbia and later became head of the hematology laboratory at St. Paul's Hospital. Dr. Vickars, a Clinical Professor in the Division of Hematology and on the Steering Committee for the CBR, oversaw the establishment
of the Provincial Hemogloginopathy Program for adults and expanded the Bleeding Disorders Program at SPH. Both are extraordinary teachers and educators. In recognition of their devotion to education, training, research and patient care, the FoM named one of the world's most modern teaching facilities that is used for all incoming medical students at UBC, the Naiman-Vickars Multipurpose Lab. This teaching laboratory holds over 300 students and can be found at the east end of the LSC with a new Naiman-Vickars plaque at its entrance. This is a fitting tribute to Shelly and Linda – that all future generations of medical students should be inspired from the start, by their contributions.
CBR Research Day
A unique feature of the CBR is that it fosters the careers of young scientists to explore translational research opportunities across multiple disciplines. The CBR Summer Studentship program provides support for 15-20 students, who gain hands-on experience in the lab and/or the clinic. They are also treated to tours of the Canadian Blood Services and the Bone Marrow Transplant unit at VGH, as well as intermittent pizza lunches! At the end of the summer, cach of the summer students presented a 3 minute powerpoint talk to a packed audience of over 150 faculty, undergraduate and graduate students, technicians and others. It was an extraordinary sight, as they demonstrated their knowledge, skills and accomplishments.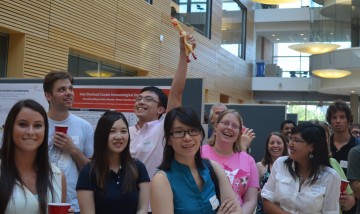 We were also honoured by the participation of Prof. Julian Davies, who gave an informative and entertaining keynote address on why "Small is Beautiful". His insights and enthusiasm captured everyone's attention and imagination ….  a perfect wind-up to the formal talks, and an excellent lead-in to the rest of the day.
We thank all of our sponsors – Bayer, Canadian Blood Services, CSL-Behring, Grifols, Nikon, Novartis, Novo Nordisk,  Roche – for providing unrestricted grants to support the summer students, and Pfizer for supporting the Research Day events and awards. We look forward to more students this summer of 2013.
---
Partnerships and Donors
CBR members continue to be highly successful in obtaining peer-reviewed funding to support clinical care and fundamental research programs. However, additional sources of revenue are critical to gain more rapid progress and to develop world-class education, training and research opportunities. The CBR is increasingly attracting investments from private donors, industry and academia. With the help of UBC Development and the VGH-UBC Foundation, these fund-raising successes reflect the excellent reputation that  the CBR has established and our commitment to wisely using these funds toward achieving well-defined objectives.
For further information about how you can support the CBR, visit our donor page or click here.
Sheldon Naiman and Linda Vickars Hematology Endowment
The passionate desire of Drs. Shelly Naiman and Linda Vickars to see further advances particularly in the field of "non-malignant" hematology, will come to fruition at the CBR through their continued efforts and encouragement. To achieve that goal, Shelly and Linda created the Sheldon Naiman and Linda Vickars Hematology Endowment with a $30,000 gift and made a planned estate gift to the Centre for Blood Research. These substantial funds will support the education and research of trainees, a clinician-scientist to conduct research and a visiting professor – all in the areas of non-malignant hematology, a category that includes inherited and acquired bleeding and thrombotic disorders, red blood cell and platelet disorders, and white blood cell abnormalities. This fund is rapidly growing with contributions from friends and colleagues of Shelly and Linda and of the CBR. Donation information can be found on the CBR Donor Page.
Bayer helps establish UBC Bleeding Disorders Collaboratory
Bayer Inc. is providing financial support to the CBR to expand research into bleeding disorders and to foster greater sharing of hematology knowledge among basic and clinical scientists. The $750,000 commitment enabled the creation of the UBC Bleeding Disorders Collaboratory, comprised of a pediatric section based at BC Children's Hospital, led by Dr. John Wu, an adult section at St. Paul's Hospital led by Dr. Shannon Jackson, and a CBR section. With this support, the Collaboratory will enhance its educational programs through studentships and seminars and has already hosted world experts in hemostasis-thrombosis, Dr. Barbara Konkle from Puget Sound Blood Centre and Dr. Ken Bauer from Harvard University and is preparing for Dr. Bob Montgomery's visit from the Blood Center in Wisconsin in March 2013. Drs. Jackson and Wu are also recruiting a translational coordinator who will build relationships with medical and paramedical staff with the Provincial Inherited Bleeding Disorders Program to enhance patient care and research.
Industrial Partners take the lead in supporting the CBR
In 2012, the CBR received wide support from several industrial partners, in the form of unrestricted educational and infrastructure grants. With these contributions, the CBR has been able to hold the Earl Davie Symposium, the Norman Bethune Symosium and the Annual CBR Research Day, to expand the Collaborative Research Award Program, to increase the number of students supported by the CBR Summer Studentship Award Program, to invite world class speakers to the CBR Seminar Program, to hold social events in CBR Pod, and to maintain high performance of our core facilities. We sincerely thank the following: Canadian Blood Services (CBS), Bayer Inc.,Baxter, CSL-Behring, Fenwall, Fisher, GE Healthcare, Grifols, MacoPharma, Mandel Scientific, New England Biolabs, Nikon, Novartis, Novo Nordisk, Olympus, Pfizer, Roche.
---
Profiles
In 2012, Gerd Prenha completed a very successful PDF with Natalie Strynadka, and took a position as a Senior Structural Biology Research Specialist at the Center for Structural Biology at the University of Illinois at Chicago. He briefly tells his story on our new Profiles page.
We also had the pleasure of interviewing Ryanne Radford, a young woman with factor V deficiency. She tells of her life-long challenge with this severe bleeding disorder and how she gains support from a variety of sources.
If you're interested in submitting a story, please don't hesitate to contact us! It's a great way to inform your colleagues and the public of what's going on at the CBR and how it impacts on everyone's lives.
---
Upcoming Events
2013 Norman Bethune Symposium, April 17, 2013
We expect that the 2nd Annual Norman Bethune Symposium will be as spectacular as the 1st. Stay tuned for announcements for registration and venue information, both of which will be announced in the next couple of weeks. A draft program can be found here.
2013 Annual CBR Research Day, Life Sciences Centre, August, 2013
Supported again by an unrestricted grant from Pfizer Canada, this year's CBR Research Day will feature guest speakers, student oral and poster presentations, and of course a celebratory BBQ dinner!
CBR Wednesday Seminar Series
This noontime weekly event, held in the Life Sciences Centre (LSC3), features high-quality local, national and international speakers who are are invited to engage the CBR community on topics that are relevant to the broad range of basic and translational research being performed by our members. An up-to-date seminar list can be found on this website. Students and faculty have the opportunity to meet with the speakers. A healthy lunch is provided! Attendance is NOT restricted to CBR members, and we welcome friends and members of UBC to join us. We also encourage you to offer suggestions for invitees.
Earl W. Davie Symposium, November 2013 (details to follow)
We are already getting ready for our 7th Earl Davie Symposium and are expecting another spectacular day! Watch for the announcements!
CBR Summer Studentship Program
It's that time of year again, when those bright, talented, enthusiastic and highly motivated undergraduate students come knocking on the doors of scientists and clinicians, searching for opportunities to work in CBR labs and clinics, hoping to gain a taste of what the real world of science is all about. We're working hard to accommodate as many of these students as possible – and there are many – by raising funds to employ them for the summer and to provide them with a stimulating experience. If you want to contribute to future generations of scientists, give us a call or contact me at ed.conway@ubc.ca.
---